The New AQUA is Here!
AQUA v6.70.07 is a major upgrade that contains exciting new features and enhancements for project management, media and accounting.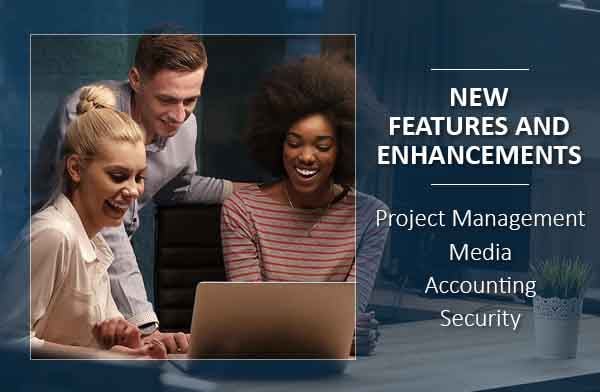 NEW Assignments and Alerts Manager
The Assignments and Alerts Manager is a new powerhouse tool for managing your own assignments and those of other teams and staff members. This consolidated view combines assignments, tasks and alerts into a single portal that simplifies your job while giving you access everything you need to manage your day. See it in action here.

Simplified Expense Reports
Our all-new Webvantage Expense Reports module is easier to use than ever before. Import transactions from a file, add or copy details, effortlessly manage receipts and even email them to yourself and approve expenses via Email or the traditional web application. Plus, we've streamlined our Mobile App experience making it easy to enter, edit and submit expenses from your phone. Watch the Expense Reports video here.

Streamlined Project Schedules
We've streamlined and simplified schedule creation and management for any size project, added a new interactive Gantt View and improved employee selection tools so that you can find the right person for the job in real-time. See the new features here.


Easily Monitor and Adjust Campaigns with the NEW Digital & Media Campaign Manager
The Digital & Media Campaign Manager completely automates the process of monitoring, adjusting and actualizing your digital and non-broadcast campaigns! We include visual charts and graphs along with the plan and actual details you need to make decisions and execute change. A single click actualizes the plan and rolls forward the balances based on the option you choose. Watch the quick video the time-saving tool you've been looking for here. Watch a short video on this new and exciting feature here.

Enhanced Broadcast Makegood Process
The Broadcast Makegood Process has been enhanced to further streamline the workflow and the interaction between the media buyer and the vendor representative. You'll be able to submit multiple makegoods simultaneously and keep track of the entire process with a bird's eye view with our "View Details" option.

More Media Spot Matching Options
Media Spot Matching has been fine-tuned to give you the ability to control match settings with more precision, offering several new settings options.


Enhanced Accounting Features and Streamlined Media/Accounting Integration
Advantage Accounting is even more powerful and intuitive with the addition of newly re-written modules, more standard accounting reports and more datasets to provide management information in any format.

With the addition of enhanced integration between accounting and media, the system has the ability to save hours of work by eliminating double entry, protect your agency financially by avoiding costly errors and deliver the KPIs you need to make important decisions.

This video walks you through the media/accounting workflow and how the special features in Advantage are a "must have" for any media agency.


New Security Features
Advantage has made life easier for you and your IT team with updates to our Security module. The SQL Server is no longer used for individual user maintenance, your team has more control over password policies and we've added forgotten/lost password retrieval. We've also added CDP Group Security module that provides you with the ability to create groups of CDPs and easily assign Employees to single or multiple groups.


There's So Much More on the Way! Stay Tuned!