Successfully Managing Remote Employees
With over 80% of US workers expressing a preference to work remotely, telecommuting is the future of the workplace. The advertising industry has been a leader of using remote workers, especially with independent contractors.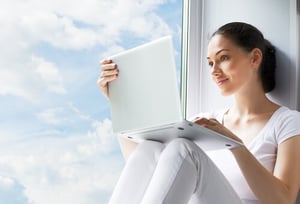 Managing a remote staff presents some issues. According to the Harvard Business Review, remote workers feel "out of the loop" and left out because it is very easy for managers to slip into an "out of sight, out of mind" situation. Managers and department leaders can overcome this by building a community that makes telecommuters feel less isolated from the rest of the team. This can be accomplished by using technology to streamline communication.
Communication is extremely important when managing employees in several locations. To avoid chaos, make sure everyone uses the same tools. Email works for many instances, but it's easy to leave team members out of the conversation. When selecting a communication and collaboration tool, look for the ability to store and organize comment threads by project. This enables them to be documented and reviewed if necessary. Also, be sure you have a central document repository that keeps attachments organized and accessible to everyone.
Clearly defining expectations and assignments is always important – even more so when communicating to remote staff members. Assignment details such as deadlines and responsibilities must be clearly outlined. Establish a practice of using the same tools to unify and document everything. This keeps everyone in the loop, including remote team members.
Remote employees (especially freelancers) tend to prefer a flexible schedule. But that doesn't mean forgoing timesheets. Tracking time for both local and remote team members is necessary to calculate employee productivity and utilization. Integrated timesheets takes the headache out of gathering data on employee hours. Make it simple for everyone to log their time. For example, Advantage features Desktop Assignment cards that allow assignees to log time from the card.
Creating a central hub using an all-in-one software solution makes it easier to manage a team that includes telecommuters because everyone logs into the same platform. Such a system will not only connect remote workers, but can help to break down silos between departments and multiple offices. When selecting the system, be sure it has all the features you need to connect all departments and all locations.
Searching for an all-in-one solution for both local and remote staff? Advantage is purpose-built for full-service advertising agencies, creative teams, public relations firms, and marketing firms of all sizes. Over 850 agencies use Advantage for Accounting, Project Management and Media. With features like a built-in document management repository, schedules, agile boards and a training video library, it has everything you need to manage your business. We've been helping our clients maximize productivity, efficiency and profitability for over 40 years. Find out how we can help you by contacting us for a demo. If you simply would like to learn more, sign up for our free Newsletter.