Is It Better To Beta?
Every software product goes through a development process that involves testing the product internally (Alpha testing) followed by testing the product with a select group of users (Beta testing) before the product is finally released to the general public. Every now and then agencies are given the chance to beta test a new version of software they're currently using, or software they're considering purchasing.
There are many benefits to being a beta tester including the ability to get your hands on cutting-edge technology that can give the agency a competitive advantage. But there are considerations as well to make sure the test goes successfully.
"We don't do it often, but when we have a major release for a key product like our AQUA agency management system, we offer a few select agencies the chance to beta test the product before pushing it out to all our customers." states Ellen Coulter, President of Advantage Software. "It's a great way to get direct feedback from primary users and give them the chance to shape the newest features."
Since most agencies never get the chance to beta test software, being offered the opportunity is actually quite a compliment. It means that the software company trusts your agency processes and values your input enough to give you an inside look at the software before it's ready for prime time. But just because you're asked doesn't mean you should do it. Not every agency can (or should) be a beta tester because it puts unique requirements on the agency that can disrupt projects and add additional strain to resources. It's always best to go into any situation with a clear idea of the benefits and challenges associated.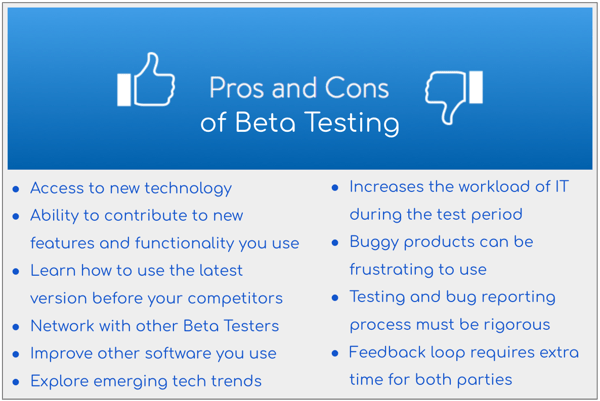 Agencies are supposed to be trend-setters and be on top of the latest in every category, so being a beta tester actually fits well with the ethos of most agencies, but be prepared to deal with the frustrations, the resource demands and the possible disappointments that accompany the experience. Not only does beta testing stretch the resources of IT staff members, but it can also try their patience (and the patience of agency staff using the software), since software in the beta stage still has bugs and working with buggy software can be frustrating. Vendor approaches to beta testing can range from very organized to haphazard, and your own testing and bug-reporting process has to be rigorous.
Just the same, according to a Network World article, most beta testers report that even when things go wrong, they still feel the pros outweigh the cons. Reasons include early access to new technology that can solve long-standing problems, the opportunity to influence product development and a direct line to code engineers.
"Agencies participate in beta testing because they're intensely competitive and are looking for every advantage possible. Learning about, training on and mastering new, innovative features and functionality of something as important as your agency management system can lower your operating costs, increase your throughput and improve critical factors like resource allocation and timesheet management." says Coulter. "These are improvements that can help win business and drive profit improvement."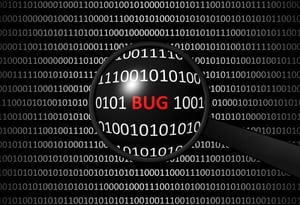 A lesser-known benefit of beta testing is the ability to improve other software the agency uses. It's not uncommon for a beta testing agency to come across a bug in the software they're testing that is caused by another software product that is incorrectly configured. Fixing the bug involves correctly configuring the other software product - something that could have caused problems for the agency down the road or even opened the agency up for something as serious as a security breach, etc. It's side-effects like these that keep most beta testers coming back for more.
Whether beta testing is right for your agency has everything to do with your agency's culture, workload, resources and technology interests, but for the right agency, it can be a competitive advantage and a way to not only stay on top of technology changes, but play a role in those changes as well.
Advantage Software believes in customer-driven innovation and gives customers the opportunity to beta test new product releases on occasion. If your agency uses Advantage's agency management software and would be interested in being a beta tester, let us know. We'll get in touch at the next opportunity and discuss the requirements to make sure everything is a good fit.
If you haven't put the power of Advantage's AQUA software to work for your agency and would like to schedule a free online demo to see what a fully integrated agency management system can do for your agency, request a demo and we'll show you how AQUA can drive profits and productivity by bringing Project Management, Accounting and Media together into one comprehensive solution. It may be the best decision you make this year!