Pricing Projects Profitably
Pricing projects at agencies can be more of an art form than a science, but it doesn't have to be and it shouldn't be.
In this post, we'll examine some of the core elements that impact pricing a project profitably for the agency and discuss the exceptions that may cause an agency to price a project differently.
Let's start with a quick Project Pricing Decision Tree Helper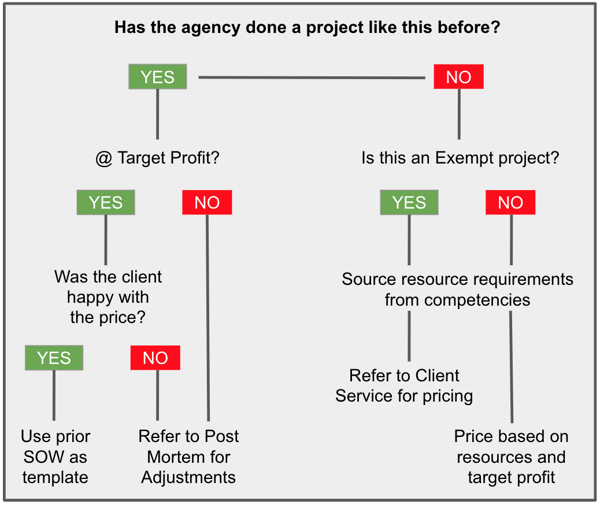 When a client asks for a Statement of Work or proposal for a new project, the first question the Project Manager should ask is; "Have we done this before?" and "If we did, was it profitable?". The answer to those two questions will inform the amount of work to follow.
The easiest jobs to estimate are those that the agency knows how to do and has executed profitably in the past with a positive response from the client. For those jobs, the PM can simply refer to the staffing and pricing from a prior SOW and update the details as appropriate. However - they should also be questioning whether it's possible to optimize the resources or project flow to improve profitability further.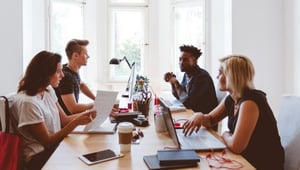 If the client wasn't happy with the prior SOW due to pricing and/or the agency wasn't able to complete the work within the identified profit target (you do have an identified profit target for your deliverables - right?), then the PM should be able to refer to what is often called a Post Mortem; basically, a debrief meeting that should happen after every project in which the PM queries each team member or competency regarding what went right and wrong during the project and what could have been improved upon or left out. These meetings can be hard to schedule because each team member has since moved on to other work, but they're vital for the success of the agency and must be emphasized if Project Management is to understand the reasons behind the stats of the project.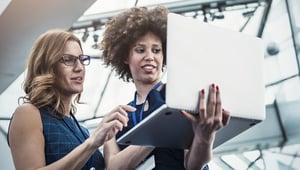 If the agency hasn't executed a similar project in the past, then the Project Manager needs to go through a much longer process of meeting with each competency, discussing the project requirements and getting their direction on resource requirements, etc. More senior PMs should be able to draw from their experience at other agencies to help guide or at least inform those resource discussions. There are also many PM resources online to refer to when estimating time for deliverables, but the reality is that many times the number of hours estimated will depend largely on who the actual person is assigned to the work. This is where a PM's team knowledge is critical as well as a strong Agency Management System that can provide data for each employee to help inform those decisions.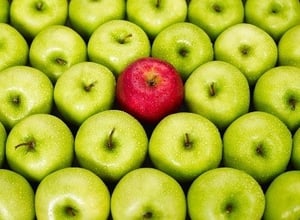 There will always be those projects that for whatever reason, whether it's because this is a new client and the agency is on a probationary period, or because this is a new deliverable that the agency is willing to price attractively to gain experience in - whatever the reason - there will be projects that live outside the standard price estimation process. That's not to say the PM doesn't need to go through the steps to accurately assess what the project is going to cost the agency, but rather that cost will serve only as an input to the final price determined for the project. These are what we've called "Exempt" projects in the Decision Tree Helper above.
Charging the appropriate amount for your deliverables is one of the hardest but most critical drivers of agency success. Data is everything when it comes to pricing and having an Agency Management System that consolidates that data for you across Project Management, Accounting, Ops and Media can make the difference between highly profitable, successful outcomes and poorly informed, margin-eroding outcomes.
If you're looking for a comprehensive all-in-one system, schedule a free online demo of Advantage Software and see the difference it can make for your project pricing, resourcing, automation and so much more.